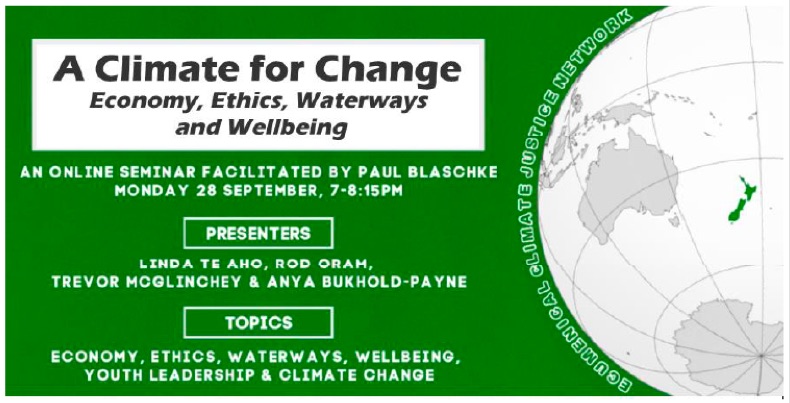 A pre-election online discussion on strategies for a new future
The line up of thought leaders and excellent presenters includes:
Assoc Prof Linda Te Aho (Tainui), Waikato River Authority, and expert on waterways and water resources
Rod Oram, journalist and commentator on business, ethics and economics
Trevor McGlinchey QSM (Ngai Tahu), NZ Council of Christian Social Services and Welfare Expert Advisory Working Group
Anya Bukhold-Payne, Climate Challenge and youth leadership
They will discuss ethics and options for the economy, waterways, and social support aligned with regeneration and climate justice. The Seminar will be facilitated by Paul Blaschke, Wellington Progressive Jewish Congregation.
On-line, 7-8:15pm on Monday 28 September, 2020.
Organised by the Ecumenical Climate Change Network. For more information, contact seminar@green-churches.org.nz. FREE, but registration required at http://bit.ly/PursueClimateJustice. After registration you will receive details on how to join in on-line.