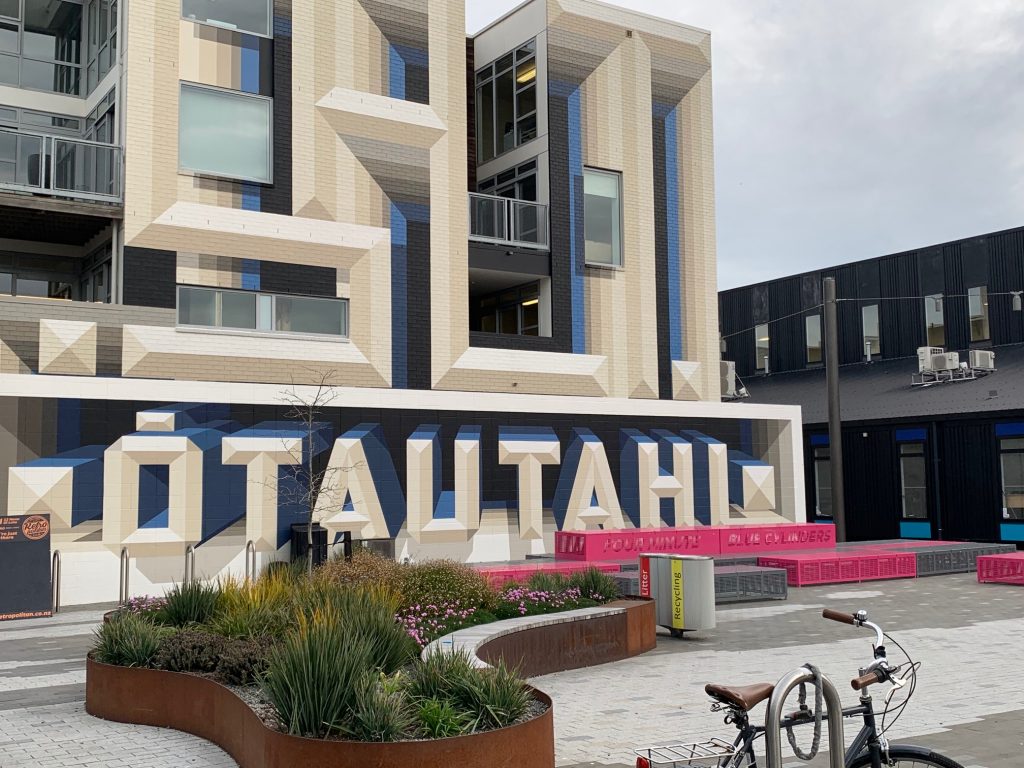 Who is Christchurch? What is the identity of our new city? Reborn in the CBD's flash, fresh metal-and-glass newness, whatever it is, it's not the same as it used to be.
"Before the earthquakes, Christchurch certainly had a strong sense of identity – its uniting mission, a reason for existing." So John McCrone begins an interesting piece of long-form journalism recently published in The Press. Its well worth a read. Essentially that clear sense of identity was bound up with the original 'Four Ships' colonial promise of a well-ordered settlement, carefully picked from all ranks of English society, model settlers for a model colony, the industrious mono-cultural market-town built on the 'empty' plains of the promised land in the South Pacific, with Māori moved to the edge of the map, almost out of sight in our sense of self-invention.
Today, however, Cantabrians are less self-assured. In a recent survey only a third of us are prepared to recommend the city as a place to visit. While McCrone observes that we may have moved on from our founding myth, but what to? Having got back up on our feet, is there still something to stand for? The insecurity and uncertainty is perhaps no better symbolised than by the empty spaces and the lack of progress in what used to be the heart of the city, Cathedral Square.
The soul-searching is, however, not necessarily 'bad news'. The founding myths, even if well intentioned, were, well before the earthquakes, little more than an illusion. And they were further shaken to the core not only by the physical tremors, but also by the shock of the terror attack of 15 March this year on our city's mosques.
Our new vision of ourselves, if nothing else, needs to be rooted in the facts of the world as they now are: multiculturalism, racism, colonisation, vulnerability of the earth, climate change, terrorism, and environmental degradation.
Perhaps a new vision might even open up an opportunity for decolonisation? Te Reo is popping up everywhere and being used more often and less self-consciously – . Te Reo classes are run by a fish and chip shop, and sold out – again and again! Ngāi Tahu values and stories are appearing through the rebuild. Thirteen indigenous woven mats of welcome (Ngā Whāriki Manaaki) have been created in natural stone pavers along the Avon River Precinct (Te Papa Ōtākaro), and sacred metal feathers cloak the walls of buildings. We are learning that Ōtautahi Christchurch is not just consciously bicultural, but, led by our Prime Minister in hijab, may also come to believe in an inclusive multicultural future. Religious diversity is even back on the agenda.
University of Canterbury history professor Pickles also notes in Crone's article that Christchurch has long been known for the paradox of being both a solid conservative Anglican city, but also New Zealand's little hotbed of radical thought in amongst the neo-Gothic architecture. We are also the home of Kate Sheppard and the women's suffrage movement, the Rational Dress Association, Ettie Rout, a whole cast of reformers and eccentrics, cyclists, vegetarians, freethinkers, Elsie Locke, Owen Wilke, Kate Dewes, Norman Kirk, Rod Donald, and many more.
In the award-winning post-quake Share-an-Idea consultations, and in our spontaneous responses to the 15 March attack, we did communicate a clear idea of our future selves – to build on the post-earthquakes' sense of community, to rebuild a fairer, more inclusive, greener, more sustainable city. One commentator described the emerging city as a hotbed of social enterprises.
As McCrone concludes, "It may no longer be about being the best an exported Englishness can produce. Yet it could be about being a cultural laboratory united by the aim of exploring all that might be best about today's modern world, an ongoing social experiment responding to its very different time."
Our prayer at Durham Street is that we might do our part in helping to rebuild just that fairer and more inclusive city.