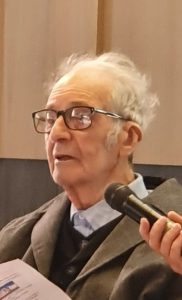 On 16th April we celebrated the life and hymns of William (Bill) Wallace who had recently turned 90, and he unveiled a new plaque for the sculpture 'Ways of the Way' that he gifted to the church when the new Aldersgate Centre was completed in 2019. 
Bill has had an amazing life of prolific hymn-writing, music and poetry – each expressing his disruptive and expansive faith. Bill is one of Aotearoa New Zealand's most published hymn-writers and many of his hymns have been published internationally. The service featured five of his latest cosmic creations, all yet to be published, which he placed in context as part of his growing mystical approach to spirituality.
After the service, Bill and his wife, Barbara, along with family and friends, joined Rev Philo Kinera, in dedicating the sculpture and new plaque in the Huritau Memorial Garden at Aldersgate.